Expert Maria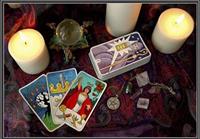 Offline
Fee -
$2.00

$1.00/min

Let's start with $3.00 FREE
---
Expert Maria
Specializing in:
All About Love Life
Languages:
English
---
✝💟💜✡I have 15 YEARS OF EXPERIENCE AND HAVE helped many people through my powers in different areas of life…I am naturally gifted .., in matters of love, money, career, loneliness or any kind of life situations🔮
---
About My Services
I will show you your correct path., can predict your future. I do give you accurate and in-depth readings, I tap into information using my intuition and provide you with clarity on your life situation.
---
Experience
15 Years Experience Psychic Advisor & Tarot Reader
---
Other gifts
I am gifted psychic I use my clairvoyance abilities . God has blessed me with psychic abilities and powers .. I am spiritual advisor , astrologer, tarot reader, aura reader, crystal healer, can forecast and gives good guidance .
---
**Disclaimer - Indiviual results may vary