Clairvoyant Hennah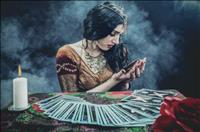 Offline
Fee -
$2.00

$1.00/min

Let's start with $3.00 FREE
---
Clairvoyant Hennah
Specializing in:
Astrology Readings
Languages:
English
---
Am a psychic reader with God Gifted ability to see things beyond the range. I give readings on love and relationships, family and friends, finance and careers and can also read for your present past, and future.
---
About My Services
I am a natural born psychic. I got this gift from my family. I always give honest and straightforward readings without sugar coating. I not just give the reading I give advice and suggestions as well. I always stay friendly and to the point.
---
Experience
Love & Relationship
Career
Present, Past & Future
Family & Friends
Dream Interpretation
---
Other gifts
HOW I WORK:

I work through Tarot Cards.

I work through energies which you possess/ which you have(Negative or Positive).
I work through your mind, your thoughts, your concentration.
I work through the detail you provide me to connect(Easier, and to the point, it will be sooner I will get connected)
I work through the focus you provide.

These are the details which will help me and you as well. I can also make you work on these things if you find any difficulty or burden on this, as these are not limited to me, in fact, these are the key to get success in real life also these things affect the most in our present life and daily life.
---
**Disclaimer - Indiviual results may vary