Light Of Your Life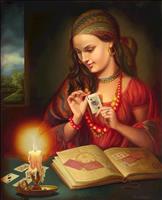 Offline
Fee -
$1.99

$1.00/min

Let's start with $3.00 FREE
---
Light Of Your Life
Specializing in:
Love and Relationship
Languages:
English
---
Spirit Channeler ,Love Readings,Relationship Reading, Marriage Reading, Stop Jealousy Stop Bad Habits (drinking, smoking, abuse, etc.) Help with Marital Situations Family and Children Problems Bring Financial Growth Restore Happiness Restore Clarity in Life

---
About My Services
I am a spirit channeler, working with energies. I have helped so many people with issues around them, by giving them compassion and an understanding of the situation, helping people move in the right direction, giving not only spiritual but practical advises as well.
---
Experience


Love Reading

Relationship Reading

Marriage Reading

Stop Jealousy

Stop Bad Habits (drinking, smoking, abuse, etc.)

Help with Marital Situations

Family and Children Problems

Brings Financial Growth

Restore Happiness

Restore Clarity in Life

Problems at Work
---
Other gifts
Natural Born Psychic
---
**Disclaimer - Indiviual results may vary