Psychic Luqman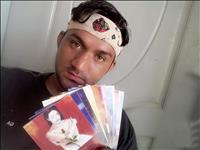 Offline
Fee -
$2.00

$1.00/min

Let's start with $3.00 FREE
---
Ask for Email Reading
Psychic Luqman
Specializing in:
All About Love Life
Languages:
English
---
I'm a solid believer to adjust of the body , brain and soul and this means I'm exceptionally gifted in the domains of reflection I use it regularly to mend and purge customers it carries harmony and opportunity to ones spirit.each and each contemplation meeting is planned explicitly for my customers needs at that point. .I'm an expert tarot card reader , crystal ball reader , and palm reader also . However I also can read your birth chart and can give a detailed astrlogy readings also . I'm here to help you and I believe that is the main part .I treat each customer with the most extreme regard .everything my customers reveal to me I keep in certainty . .I set forth a fearless exertion to offer solace , responses and repairing to everyone I run into considering the way that I trust I have been respected with a gift and this gift essentially cant be wasted.
---
---
About My Services
LIFE presented you with yet another crossroads. And I am here to offer you understanding and insight into thoughts and feelings of those around you and those affecting your life. My special gift of clairvoyance and clairaudie
---
Experience
I am a gifted psychic with over 10 years experience who has helped, guided, and directed thousands of people around the world. I also have my psychic shop and I am working on my psychic shop from years .
---
Other gifts
I have diploma in psychology and i am also an expert in tarot , palm and picture readings.
---
**Disclaimer - Indiviual results may vary