Clairvoyant Candybarr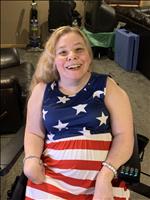 Online
Fee -
$3.00

$1.50/min

Let's start with $7.50 FREE
---
Clairvoyant Candybarr
Specializing in:
Dream Analysis
Languages:
English
---
🌈🧡FAST and ACCURATE ...... Clairvoyant, Medium, Empathetic💛🧡💜💗♥️
---
About My Services
My gifts are Clairvoyant – I "see" the past, present, and future. Clairaudient – I "hear" information from my guides. Clairsentient or Empathic – I "feel" energy; from people, situations, etc.. Claircognizant – I "know".. this just seems to happen out of nowhere. Medium – I "talk" to spirit; human, animal, angelic
---
Experience
25 years of experience. All readings are for *guidance purposes only. You alone are responsible for your perceptions and decisions. No foreseen outcome should be taken as a guarantee. You are in charge of your destiny, and the one who decides where it goes. The best I can do is show you what your options are, and you will know where to take it from there!

I will not sugar coat anything because it won't help your path and help you become one with your higher power. Along with that my psychic reading, I do help the coping process by meditation if needed. Contact me today to receive advice from a person who treats you like an old friend.
---
Other gifts
Natural Born Clairvoyant & Medium
---
**Disclaimer - Indiviual results may vary