Mystique Aayesha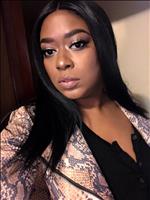 Online
Fee -
$1.99

$1.00/min

Let's start with $3.00 FREE
---
Ask for Email Reading
Mystique Aayesha
Specializing in:
Psychic Readings
Languages:
English
---
Psychic reading on love and relationship, reunite, marriage, career, finance, health and future prediction.


---
About My Services
I'm here to guide and help you in every matter. If you want in-depth answers to clear the confusion, call now. Let's create a fantastic future! I am a compassionate and gifted psychic advisor committed to empowering your life on all levels. I am honest and uncannily accurate in unfolding all of the answers that have eluded you. I can help you manifest an abundance of love and happiness in your life. I specialize in soul mate connections and giving clear and accurate advice regarding love and relationships. You may not know who you truly need to be within your life. Let me guide you and help you find that special someone or clear up any of your deep concerns regarding your relationship. Don't hesitate another minute! I'm here for you. Sometimes life can be confusing, so allow me to help you remove those negative thoughts out of your head and steer you towards an amazing future.
---
Experience
I have more than 15 years of practical experience. About my expertise, I can sense energy (positive and negative) also proficient to read the mind and heart feeling. My insights based on reality, logically, of course, outcomes of my reading will be favorable for you. It is my pleasure to help everyone and have a background in relationship matters including marriage, divorce, family, friends, love money, career, dreams, spiritual matters and questions worrying you in general. My expertise and skill proved to be very productive and healthy for other people. My insight powers and spiritual skills are giving me superior encouragement to see all in fortune. I am a very friendly and inspirational person and my clients are valuable like an asset for me. I always provide excellent service as I can do my best and yes I can tackle any curse, evil spirits, devil energies, pains and body scroll down waves in mind.
---
Other gifts
Psychic, Numerology, Astrology, Dream interpretation, Spirituality


---
**Disclaimer - Indiviual results may vary